If you have any information about these crimes or any person(s) involved, you are urged to call Crime Stoppers at (502)875-8648 or submit a Web Tip . You do not have to give your name. CRIME STOPPERS will pay a cash reward of up to $1000 and you can remain anonymous.
Murder
September 25, 2019
The Frankfort Police Department investigated a shooting that occurred on 09/02/2019 at East Frankfort Park. At 5:49PM Frankfort Dispatch received a call of shots fired and an individual was injured. Frankfort Police officers arrived on scene and located the victim with gunshot wounds in the parking lot of the park.
The victim was transported to Frankfort Regional Medical Center where he succumbed to his injuries. Two other victims who were shot at the East Frankfort Park arrived at the hospital through personal transport. These victims' injuries do not appear life threatening at this time.
Through the information and evidence obtained during the initial investigation and interviews of eye witnesses, an arrest warrant has been secured for Justin L. Cromer, 28 for his involvement in the murder of Anthony Hendrix, 25.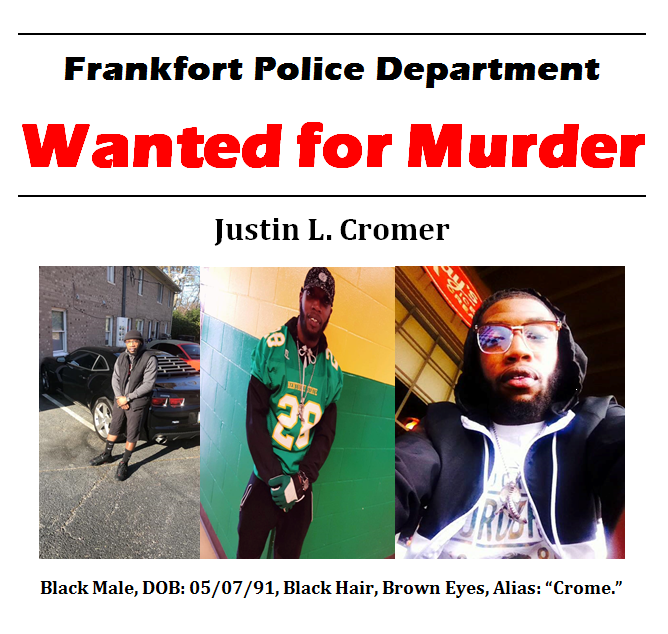 ---
Missing Person
August 13, 2019
STATUS
: OPEN
On November 12, 2018 family of Kevin Lee Jackson reported to the Frankfort Police Department that he had not been seen or spoken to since October 26, 2018. The family reported it was abnormal for Kevin to not contact them for such a long period of time.
Kevin Jackson Missing
---